The buying process has changed. Prospects don't want to be pitched to by sales people anymore.
They do their own research. They weigh their own choices. They already know what they want before they talk to your sales team.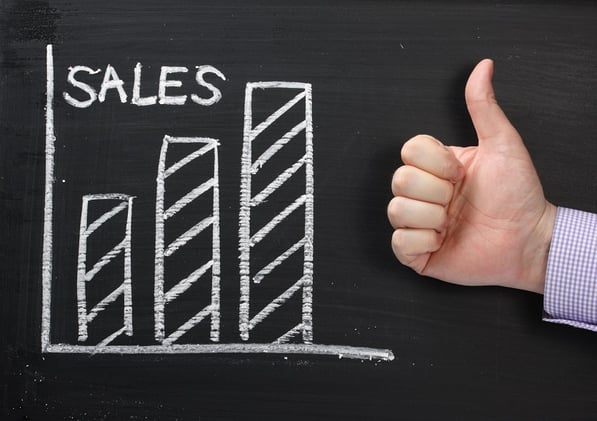 This calls for a new type of selling. It involves guiding prospects down the path they're already on, rather than showing them the path.
It's inbound selling -- a focus on educating the buyer through the sales process. Your sales team needs to adopt this methodology to be an effective asset as the sales landscape continues to change.
Here's how to get your sales team to use inbound selling:
Teach Your Sales Team How to do Pre-Contact Research
Know your buyer as well as they know themselves. In fact, get to know them better than they know themselves.
This type of knowledge gives your sales team the power to help prospects. That's one of the key differences between inbound selling and traditional sales. You're not trying to convince prospects to become customers. You're trying to help them make the best decision possible.
How do you do this? With pre-contact research.
Teach your sales team how to research prospect's wants, needs, and pain points before getting in contact with them. This could involve scouring online forums for information. It could involve paying attention to discussions on social media. It could mean looking up a prospect's LinkedIn profile to gather specific knowledge about their background.
Every piece of information your team can gather helps the sales process become a much better experience for your prospects (and leads to better results for your bottom line).
Know the Right Time to Call Prospects
In a previous article, I discovered that it's best to contact a lead within 5 minutes after lead generation.
After they've downloaded an ebook

After they've started their free trial

After they've opted in to your blog
If you can't contact a lead within 5 minutes, you want to get in touch sometime within that first hour. This also gives your sales team time to conduct pre-contact research.
However, during these calls, your sales team needs to act in an inbound way rather than a sales way. What do I mean by that?
In general, it's about the types of questions that are asked and the ultimate goal of these calls. For example, inbound questions usually contain the word "help."
"I see you downloaded our lead generation ebook. Do you need help with anything?"
The focus is on identifying your prospect's biggest challenges and showing them how your business can be of service. It's less about the products/services and more about the prospects.
The key is to really know your prospects. If you need help putting that together, download the Precise Prospect Profile Kit.
Have your salespeople keep in mind that they are advisors who happen to know a lot about your products/services. If they can identify problems that your products/services can solve, that's when they start discussing them.
Don't Try to Force Sales
Here's the thing:
Getting the sale is always a good thing. But there's also an opportunity cost involved.
When your sales team tries to force sales on bad leads, these interactions usually last abnormally long. Even if they do get the sale, that time could have been spent on higher quality leads, meaning they could have gotten multiple sales in that same time frame.
If the lead doesn't have problems your business can help them with, or they're simply not ready to buy right now, make sure your sales team knows to postpone the interaction and move on to warmer leads.
Create a Seamless Buying Process for Prospects
What's the ultimate goal? To make sales.
Who ends up buying your products and services? Your prospects.
Therefore, it makes sense to make the entire process as smooth and painless for these people as possible. No hassles. No gimmicks. Just a smooth ride to their destination.
Put yourself into a prospect's shoes. What is this person expecting? What would make their life easier?
As you think about the process from your prospects' perspective, you'll discover different ways to make the buyer experience a more pleasant one.
Inadvertently, this also leads a more effective sales funnel.
Focus on the Buyer
Finally, it's crucial to communicate to your sales team the importance of having a buyer-focused mentality.
It used to be that salespeople mastered the ins and outs of your products/services and that's what gave them the power to make sales.
Not anymore.
Buyers already know about your business. They've done their research. Now they need a trusted advisor to help them along the way.
They need sales people who have their best interests at heart and can lead them to the right decision.
That's inbound selling at it's finest.
Takeaways
The buying process has changed. Prospects don't want to be pitched to by sales people anymore.
Inbound selling is a focus on educating the buyer through the sales process.
To get your sales team to use inbound selling, teach them how to do it and why it's so important in this era of sales and the buying process.