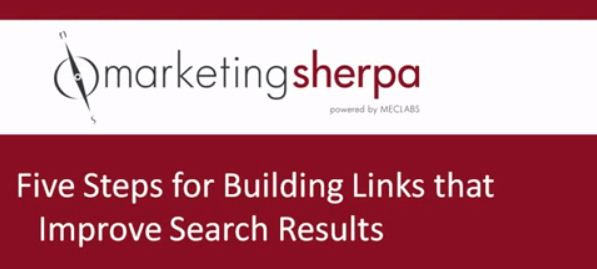 Search engine optimization (SEO) is one of the smartest and most effective strategies for positive results with your inbound marketing. Having a high, organic SEO ranking will not only demonstrate your trustworthiness and reliability, but it can distinguish you from your competitors. With the possible drawbacks coming from changes by search engines like Google's Penguin Update, how will this affect your future marketing campaigns?

Link-building is one of the strongest ways you will improve your search engine optimization. When Google recognizes you as highly relevant for a particular search, this is the "secret sauce" you want in your marketing mix to drive ideal buyers to your site – because of your "popularity" with Google.

Courtney Eckerle wrote an article about a recent MarketingSherpa webinar, where Alex Dunks, Manager of Business Development with Webmarketing123, whipped up five link- building steps that can improve your search engine ranking. Some of his concepts are:


Lay a strong foundation by setting groundwork and understanding how to properly measure what is and is not when working with keyword selection. He believes that the anchor text of a link is important because Google and other search engines evaluate it when they follow a link.
Put tracking in place. Tracking is important in the same way we want to have our keyword rankings benchmarked - we want to know exactly where we've come from and where we've gone. According to Dunks, you what to figure out which keywords are actually making a difference. What if it's just two of the 20 keywords that are delivering conversion? Hone your campaign and focus on only the two that are leading to conversions, and find some new variations that are very similar to those words.
Make your links as diverse as your keywords. He advices marketers to think of external links as entry points to your website, and especially to those deeper points in your website. He said a good strategy to employ is to make sure that the content on your website is organized into themes. An example would be "silo one" for men's shoes, "silo two" might be women's shoes, and by grouping things into silos, Google is better able to understand that theme.

Check out all the steps mentioned by Alex Dunks in the article, "5 Steps for Building Links that Improve Search Results". Would you add other steps? What link building strategies have you found to work especially well for your business? Please share them here by leaving your comment.

Many business owners and marketing professionals struggle to implement link building, especially with the myriad of consistently changing factors search engines use to rank pages – such as Google's new Penguin update. Use these steps to establish a specific plan for strategically building links that will improve your ranking.
Inbound Team is Georgia's Digital Marketing Agency specializing in helping businesses grow through inbound and digital marketing.
Inbound Marketing Services
are available for companies that want more leads and want to accelerate their growth.