Today, I'm going to show you how targeted inbound marketing, the Inbound Out marketing method, compares with traditional marketing:
Trade Shows.
My goal isn't to convince you to stop doing trade shows. In fact, Inbound Out marketing can help improve your trade show results. So there's a strong case for Inbound Out marketing as a smart addition to your overall strategy.
Delegating more of your budget to this marketing methodology offers many benefits:
Better return on your investment -- Inbound Out marketing is cheaper per lead than most methods, especially trade shows.

Longer term results -- Prospects build a deeper connection with your business.

A consistent strategy -- Inbound Out marketing consistently builds your business over time, whereas trade shows only happen every once in a while.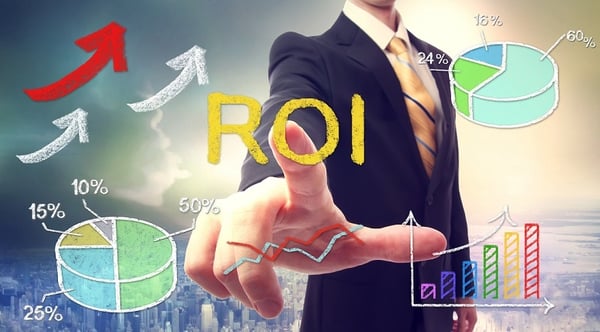 Let the battle begin:
Inbound Out Marketing vs. Trade Shows — ROI
Trade shows can be expensive endeavors. Here's a breakdown of the costs involved:
Space rental
Design and construction of displays
Accomodations
Promotional material
Telecomunications and networking
Travel
Miscellaneous
According to Exhibit Solutions, to get a 20X20 sq. ft. floor space, you can expect to budget around $25,200 for the event.
Trade shows are like sprints in marketing. You pay a lot up front, market your business aggressively, and hope you come out with enough customers/clients to recuperate that cost (and then some).
Inbound Out marketing is more like running long distance. The benefits aren't immediately felt, but they last longer and the cost-per-lead is much lower. Just like getting into a running habit, those benefits compound upon one another and grow exponentially.
So, how much does Inbound Out marketing cost?
There are two ways to engage in Inbound Out marketing:
Do it yourself in-house.
Hire an agency that specializes in this process.
If you have the right people and time to manage them, you may be able to get good results using an in-house team. In a previous article, we explored some of the costs of inbound marketing.
This includes strategy, blogging, SEO, social media marketing, and executing campaigns.
To hire an agency, Inbound Out marketing typically costs between $8,000 and $12,000 a month.
Each market and business is different, so the exact cost depends on a number of factors. Use our Inbound Marketing Investment Calculator to determine your estimated investment per lead.
Inbound Out Marketing vs. Trade Shows — Long Term & Short Term Results
Trade shows provide results in the short term. This isn't a bad thing by any means. In fact, it's one of the reasons they're so popular.
Unfortunately, the downfall of those results in the short term is that they only last for a short while. Quick to come and quick to go.If this was your only strategy, you would need to wait until the next trade show to generate more leads, customers, and clients.
A diversified marketing plan should include short term and long term plays. One of the best long terms plays is Inbound Out marketing.
With Inbound Out marketing, it takes time to analyze your business, develop a strategy, create your Precise Prospect Profile, build a prospect list, and create content.
But once that foundation is there, the Targeted Outreach phase begins. This is active lead generation over the course of months and years.
These leads build micro rapport with your business. They build a relationship with your company and start trusting you.
This builds trust in your products and services, convinces them to buy, and eventually turns them into brand ambassadors who rave to their network about who you are and what you do.
Inbound Out marketing doesn't yield short-term results, but it's a long-term play that will yield results far down the line, exponentially growing your business.
Inbound Out Marketing vs Trade Shows — Consistency
Consistency in marketing and business growth is crucial.
As we've discussed, trade shows are a sprint. They're a shotgun approach to generating leads. This makes it tough to measure your results and make the minute adjustments necessary to maximize your ROI.
Inbound Out marketing is constantly engaging your target audience and measuring the results of each campaign. This gives you (or us) the power to do more of what's working and cut back what isn't—all in real time.
This maximizes two things:
Your results

The return on your marketing investment
The consistent and ongoing nature of Inbound Out marketing makes it the ultimate long-term growth strategy.
Inbound Out Marketing vs Trade Shows — Why Not Do Both?
I know this drives CEOs crazy—spending heavily on a trade show and then your sales people "forget" to follow-up. If nothing else, be sure to do a trade show follow-up compaign through email and social media.
Many of the prospects you met at the show aren't ready to buy. So the sales team will naturally chase hotter leads. However, many trade show leads will become buyers—just on their terms and time schedule. Stay in touch and you'll get the lead when they actually are "hot."
I'll leave you with one last idea. Run a campaign before the show. Use targeted outreach through email and social media to announce your plans for the show and special events. Even people who don't make it to your event or booth will still remember you. And, put all these people in your post-show follow-up campaign too.
Wrap Up
This article isn't meant to convince you to stop doing trade shows. If done the right way, they are an effective marketing method, especially for certain industries.
However, Inbound Out marketing can be an excellent cost-effective addition to your trade show campaigns and other marketing tactics.
It combines inbound marketing with targeted outreach to give you warmer leads at a lower cost. It yields long term results that continue to improve.
If you're on the fence, talk to a specialist today and find out if Inbound Out marketing will work for you.
Traditional marketing no longer works well because buyers have changed. You must learn to adapt. Download the CEO's 2016 Guide to Marketing now to learn and execute your own 2016 marketing strategy today.
Takeaways
Delegating more of your budget to Inbound Out marketing can help you diversify your strategy.
Inbound Out marketing is a cost-effective, long-term play that consistently generates leads for your business.
Learn more about how Inbound Out marketing can benefit you.

Lead Generation Strategist at Inbound Team
Inbound Team is Georgia's Digital Marketing Agency specializing in helping businesses grow through inbound and digital marketing.
Inbound Marketing Services
are available for companies that want more leads and want to accelerate their growth.