A 2012 study found that inbound leads cost 61% less than outbound leads.
That being said, inbound marketing is not free. Even though the three main channels (blogging, SEO, and social media) are free to utilize, there is a cost for successful execution.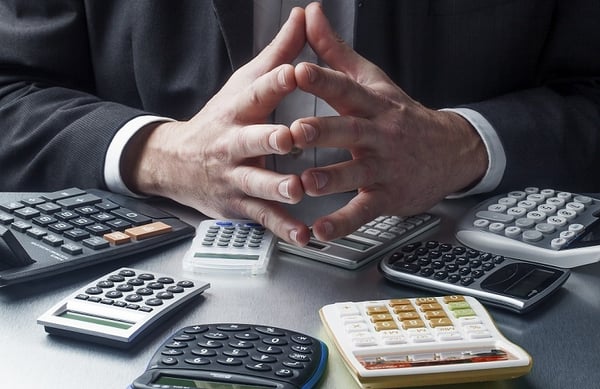 That's what we're going to break down today. How much does this style of marketing actually cost? How big of a budget does it take to be successful?
Whether you're considering inbound marketing or you're already an active practitioner, these are important questions to answer.
I've broken this information up into two categories:
The cost of doing inbound marketing internally

The cost of hiring an agency to do it for you
Let's get started.
The Cost of Handling Your Own Inbound Marketing
InboundSales.net put together a great overview of inbound marketing costs. We're going to start with their ideas, then expand upon and update all the aspects of inbound marketing.
Strategy
First, inbound marketing takes planning. You need to develop buyer personas, put together a content strategy, a promotion plan, etc. All of these make execution a smooth ride, but this planning takes time and labor.
Strategy and analysis will typically cost $1,000 a month if outsourced to an agency. The demand for inbound and digital strategists has been growing, and you want a top strategist.
The business results depend on having an excellent strategy, so this is not the place to trim your budget.
Content
Content is the driving force behind inbound marketing. It's how you attract prospects, nurture them, and eventually convert them into customers.
There are many forms of content, but the number one way to publish it is blogging. Blogging takes time and resources. Often, companies need to outsource their writing, and quality writing commands strong pay. But quality writing also attracts and converts leads at a higher rate.
Blog posts cost at least $1,600 a month (8 blog posts at $200 each). Eight posts per month is a minimum, and it's better to plan for twelve. So, $2,400 per month.
Premium Content, Landing Pages, and Nurturing Emails are also required. You want a website that delivers leads and keeps them engaged. Regularly create premium content like a PDF or Infographic, then design a landing page that captures the prospects information.
Select the key points from the premium content and create an email sequence. We're all busy. So send out the key ideas via email. This way, the prospects will get the message even if they never get around to reading the PDF.
Premium content requires writing, design, and layout. Budget $4,000 to $6,000 per piece including the landing page and email sequence. Develop new pieces monthly or quarterly, but keep on a regular schedule.
One of the goals of inbound marketing is to be found when your prospects are searching for information related to your business.
They can find this information on social media and online communities, but the first place they typically go is Google. You want to be one of the first businesses that pops up, and this involves search engine optimization.
On SEO, there's good news. Your investment in great content eliminates much of the work and costs of old-school SEO.
Still, you will need to budget $1,000 to $2,000 for an interactive engineer to maintain your website and keep your on-page SEO humming.
Social Media
Next up we have social media. This is where you will do significant content promotion and traffic generation.
But once again, there is a cost to manage these accounts and execute this promotion.
Social media marketing typically costs $2,000 to $3,000 a month.
You can do basic social marketing for less, but unless your competitors are doing nothing, this rarely works. We recommend you actively target influencers and even high-value prospects for direct outreach.
You've done the hard work of creating content, so put it in front of the people who can sign a check or get others to become customers. The only catch is you can't automate this. All the outreach must be personalized.
Total Budget
OK, so we're biased. We think hiring an Inbound Marketing agency gives most businesses a "fast track" to success.
If you add up all the numbers above, you'll see that a bare bones budget is $8,000 per month. Our typical client invests $10,000 or more. We've tried to deliver results for less, but there's a tipping point between $8,000 and $10,000 per month where you really get a great ROI.
We see companies think, "Oh, I'll just hire a 20-something recent college graduate. They get all this online stuff." But, will they think strategically and will they have the business experience to turn your website into your best salesperson?
By hiring an agency, you skip the learning curve and head straight to the results you're looking for. These people are experienced, they have a proven track record of success, and they're ready to get started right away.
Even if you do make a modest hire, someone earning $40K per year, with benefits and overhead, they'll still end up costing at least $5,000 to $6,000 per month. And you'll have to train and manage them.
Unless you're with a larger company and can afford a full team of people, working with an Inbound Marketing agency is usually your best value. Even a very bright $40K to $60K employee can't be good at everything. And there are a lot of skills that are required. Strategy, project management, sales coordination, writing, editing, design, interactive engineering, social media, social prospecting. And, that's before you try to keep up with the Internet trends and new tactics that pop up every day!
The right strategy and tactics will vary from one company or industry to the next. Visit our Lead Investment Calculator for an estimate tailored to your specific situation.
Wrap Up
In the end, the cost of inbound marketing depends on your business and its needs. It also depends on whether you're doing it yourself or hiring an agency.
Make sure to do your research beforehand. And if you decide to go with an inbound marketing agency, choose an agency you trust and respect.
Takeaways
While Inbound Marketing is cheaper than outbound, it's still a lot of work.

A minimum budget for Inbound Marketing is $100,000 per year—more for aggressive companies or companies with aggressive competitors.

Whether you decide to do it yourself or hire an agency, do your research.

Lead Generation Strategist at Inbound Team
Inbound Team is Georgia's Digital Marketing Agency specializing in helping businesses grow through inbound and digital marketing.
Inbound Marketing Services
are available for companies that want more leads and want to accelerate their growth.