"Inbound Marketing will get you leads," they said.
"Start a blog and the leads will pour in," they said.
"This is a waste of time!" you said.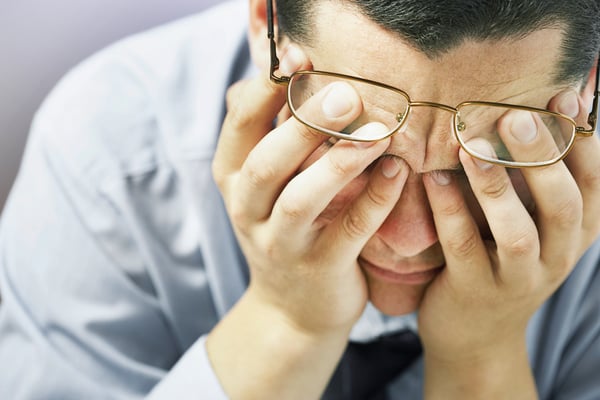 When it comes to inbound marketing, just because you publish a few posts that talk about your company does not mean you are going to get the results you are hoping for. There is a lot more to it than that.
If your inbound marketing is not producing the results you thought it would, take a step back, examine what is going on, find the problem, and then fix it.
To do this I recommend you take a deep breath, take a real look at your content, and then ask yourself these 8 important questions:
1. Do I know my target audience?
The most important thing to consider with any type of content is who you are writing for. If the information you place on your website is not performing like you think it should, it might be because you don't know enough about your prospects.
The first step to creating content is to clearly define your ideal prospect. The better you are at defining your prospect, the better you'll be able to shape your content to serve your target audience.
Download our Precise Prospect Profile Kit and define your ideal prospect.
2. Does my content provide solutions my audience needs?
Buyers are at your site for a reason. They need help and they are hoping the information you provide will help them.
It is not enough just to produce content, you must address the questions and concerns your prospects have. If you are not answering your prospect's questions, they will leave your site and go elsewhere.
The better you are at answering the questions your prospects are asking, the higher you will rank and the more visitors you will get.
3. Are my blog titles compelling?
The headline is the most important part of an article, because its purpose is to get the reader to read the first sentence. If it falls short, the rest of your content will go unread.
Concentrate on making your headlines fun, catchy, and magnetic. Ask yourself, "Would this make me want to read on?" If your answer is yes, then you have a winner.
To learn more about creating great headlines, check out this article on how to write enticing headlines.
4. Am I using the right keywords?
One of the most successful ways to gain more traffic is through the use of Search Engine Optimization (SEO).The better you get at SEO, the more you can increase the amount of traffic that comes to your site.
If you research and discover the keywords that prospects in your target market are using when they search, you will know the terms and phrases to use in your content and you will also learn more about your prospects.
These important keywords and keyword phrases must be part of your SEO strategy. Place them in your blog title and multiple times throughout your blog post.
5. Are my images attractive and fun?
Earlier we said the purpose of the headline is to get the first sentence read. Well, having a great image can give your headline a big boost!
Great images attract readers' attention and will enhance your post. As the saying goes, a picture is worth a thousand words, so make sure the images you use are telling the right story and attracting readers.
To learn more about how to use images to enhance your blog, check out this article.
6. Am I adding calls-to-action to all my posts?
Inbound marketing is about so much more than just getting visitors to your site. You need to convert these visitors to leads, and you can do this through having compelling and relevant calls-to-action in your blog posts and on your home page.
A call-to-action prompts your visitors to take action. CTA's should direct your visitors to a landing page where they will give you their contact information in exchange for a valuable piece of content.
Align your calls-to-action with the information on that page as well as the stage of the sales cycle that person is likely to be in. Help your visitor decide what to do next rather than leaving them to decide that on their own.
7. Am I doing more than publishing content on my own site?
Social media is the perfect medium to let people know you have just published a new blog post. Sharing your content on social media platforms like Facebook, LinkedIn, Google+ and Twitter can help get the word out about your company.
Make sure the content you produce can be easily shared with others.
8. Am I on the right platform?
There are so many different social media platforms out there, that it would be difficult to be amazing on every single one. Stick with the 3 or 4 that have the greatest potential for reaching your ideal audience.
Your ideal audience spends time on specific social media sites. Those sites are where your prospects are most likely to see your content.
To find the platform that makes the most sense for you, check out this article on how to choose the right social network for your business.
Inbound marketing is all about working smarter for your web site visitors and earning leads through the great content that you post. You can gain a lot of attention and your site will increase its traffic in a substantial way if you create the kind of content your target market values. As your traffic increases, so will your leads.
Takeaways
Clearly defining your audience makes all the difference when creating content and will help ensure your success.
Address the issues that keep your prospects awake at night by creating content that solves those problems using your products or services.
Carefully choose your blog titles, keywords, and images so they enhance your content.
Convert visitors to leads using appropriate calls-to-action.
Sharing content and engaging people on the right social media channels plays a vital role in the amount of website traffic that comes to your site.
Content Marketing & LinkedIn Strategist at Inbound Team
Inbound Team is Georgia's Digital Marketing Agency specializing in helping businesses grow through inbound and digital marketing.
Inbound Marketing Services
are available for companies that want more leads and want to accelerate their growth.