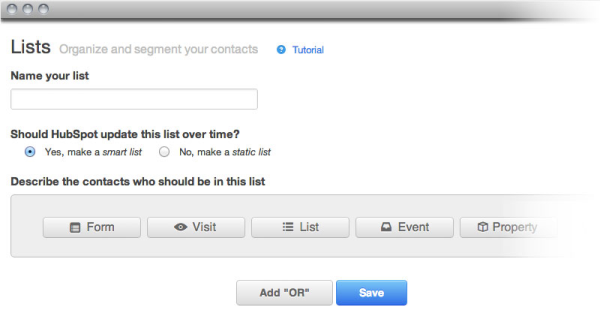 As a business owner or marketing professional, wouldn't it be simple to send an email to a contact (or nurture them) when they view a specific page on your website? How about build a list of everyone who has seen a specific page on your website?
These automation tasks are simplified with HubSpot's new Timeline Segmentation tool. It's a powerful new addition to the list segmentation tool that makes it possible to target even more specific groups in your database, and deliver even more targeted, relevant messages.

The subtle yet powerful change to the list segmentation tool lets users set page views and events as criteria easily. This is an added feature aside from building segments off of form submissions, list membership and properties.

With the new timeline segmentation, you can now:


send an email to a contact when they view a specific page on your website
automatically trigger timed emails based on form completions and downloads
build beautiful emails that focus on different lists based on lead behavior and target them to get the best results

For easier report compilation, you can now store email, lead and marketing analytics data in the same place. Good email marketing is all about segmenting your audience and sending relevant information. Timeline segmentation also enables you to:


build a list of everyone who has seen a specific page on your website
track the success of your email campaigns right down to the contact
view reports and granular contact click details
track delivery, opens and clicks the contact has done

When a contact views your pricing page, you can now send a notification email to the lead owner in Salesforce. You can easily set custom criteria to control which leads get sent and when. HubSpot's Salesforce connector makes it easy to leverage any of your Salesforce data to segment your database, personalize your email messages and even change the content that prospects see on your website. Help your sales team close more business by giving them easy access to valuable lead intelligence data generated by HubSpot. Information on your leads and contacts' interests, levels of activity and marketing events is synced to Salesforce - right where your sales team can see it.

You can easily turn a lead into a marketing qualified lead when they view a product related page with the timeline segmentation. Find out which of your marketing efforts is producing high quality leads that ultimately turn into customers. Track touch points along the way, and learn what content helps move leads further down your funnel and more likely to become customers.

To understand Timeline Segmentation better, read HubSpot's article entitled, "Timeline Segmentation: A New Way to Segment Your Database with HubSpot Enterprise" and comment below to let us know what questions you have, and how this is improving your marketing automation.

Timeline Segmentation will provide you a better marketing experience. After all, by knowing what's working and what isn't, you can refine your marketing process and focus on what's moving the bottom line.
Inbound Team is Georgia's Digital Marketing Agency specializing in helping businesses grow through inbound and digital marketing.
Inbound Marketing Services
are available for companies that want more leads and want to accelerate their growth.