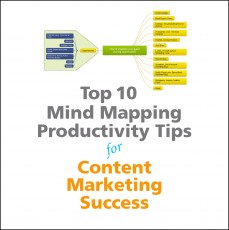 Over the years, online entrepreneurs have indulged in the benefits of content marketing to promote their businesses online. But with the overflowing amount of data and content on the internet, it can be difficult for your readers to segregate useful and relevant information for their research needs.

Roger Parker is a coach, speaker and author and mentions that content marketers commonly experience difficulties with complexity, increased responsibilities and information overload in their content marketing strategies - but with the help of mind mapping, content marketers can overcome these challenges.

Mind mapping is a content productivity tool used to visually outline information centering on a specific topic and category. It helps content marketers gain a fresh perspective, sparking new ideas, encouraging collaboration and breaking complex projects into manageable tasks, according to Mr. Parker. There are many mind mapping tools online, here are just a few:


Mindjet MindManager 2012 which is used by over 500 companies. It is easy to use and has amazing features, allowing you to integrate with Microsoft Office and Sharepoint.
MindMeister has simple but well-designed functions which allow you to work simultaneously with colleagues on the same project. It is also cost-efficient and accessible on your mobile phone, which is very ideal if you want to access your work even while on the go.
MindMaple lets you organize multiple threads of ideas creatively. It has arrows and callouts to show interactions between different sections of your maps. It is also ideal for planning of presentations or meetings.

Regardless of the mind mapping tool or software you plan to use, you can view as much (or as little) information you desire, plus with the ability to export your work. Through mind maps, you can analyze and track your competition, create buyer personas, plan editorial calendars, brainstorm article and blog topics and organize complex projects.

In the article written by Roger Parker entitled, "Top 10 Mind Mapping Productivity Tips for Content Marketing Success", he mentioned some tips on how to use your mind mapping tools to its full potential.

With the increasing prevalence of information overload online, mind mapping will definitely help you reduce the clutter for your prospects and customers. Remember that it doesn't really matter what mind mapping tool or software you use, what truly matters is how you use it.
Inbound Team is Georgia's Digital Marketing Agency specializing in helping businesses grow through inbound and digital marketing.
Inbound Marketing Services
are available for companies that want more leads and want to accelerate their growth.