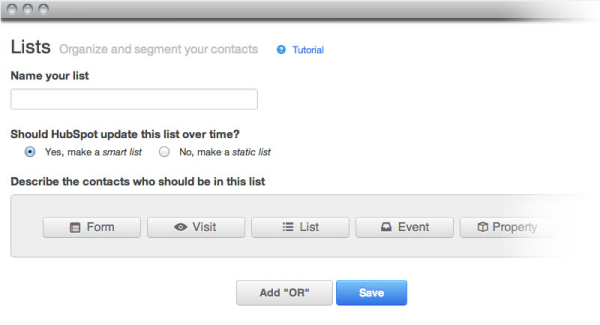 Every day, millions of people surf online to search, research and purchase products and services that fit their wants and needs. Because of this, savvy business owners and online marketers make it a priority to continuously improve the quality of service they can offer to their consumers. To stay competitive, it is vital for online marketers to adapt to the changes and enhancements of the tools and features they use in their marketing strategies.

HubSpot is well-known for helping business owners and online marketers provide their customers and clients with an excellent service they truly deserve. As an advocate of marketing, they have constantly developed tools and strategies that help online marketers and their prospects have the best marketing experience possible.

Recently, HubSpot enhanced their list segmentation tool. In addition to building segments from form submissions, list memberships and properties, it is now easy to set page views and events as criteria. This feature makes it possible to build a list, trigger an email or internal notification, start a workflow, trigger a web hook, or serve Smart CTAs to contacts that have completed a specific event or viewed a specific page.

It's now possible to do things such as:
Send an email to a contact (or nurture them) when they view a specific page on your website
Build a list of everyone who has seen a specific page on your website
Send a notification email to the lead owner in Salesforce when a contact views your pricing page
Turn a lead into a marketing qualified lead when they view a product related page
Show a specific CTA to contacts who have clicked a "buy now" button in the past or completed a transaction on your website
Send a notification email to an account manager when a contact views a cancellation page
Trigger a web hook when a custom event is triggered

To find out more about the timeline segmentation, check out the article, "Timeline Segmentation: A New Way to Segment Your Database with HubSpot Enterprise" by Jeffrey Russo.

Use HubSpot's timeline segmentation tool to build segments off of form submissions, list memberships, and properties, and easily set page views and events as criteria to convey more relevant purposeful messages.
Inbound Team is Georgia's Digital Marketing Agency specializing in helping businesses grow through inbound and digital marketing.
Inbound Marketing Services
are available for companies that want more leads and want to accelerate their growth.