Is your LinkedIn profile powerful enough to get you leads? Before you automatically tell yourself "Sure" and move on to the next article, think about it for a minute.
Does your profile get you leads? It can, you know. But for your profile to get you leads on LinkedIn, there are 5 crucial components it must have.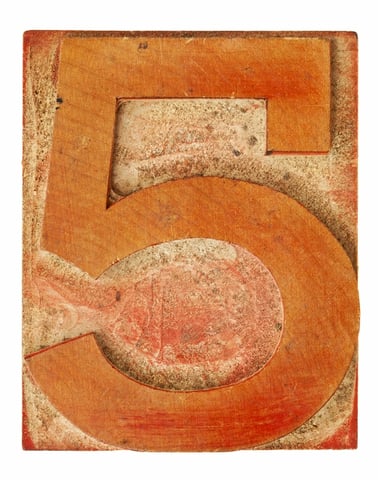 Most profiles I review on LinkedIn look like they were thrown together in 10 minutes, over 5 years ago, and have barely been touched since. LinkedIn can be very powerful for bringing you leads, so having a strong profile should be a priority.
Take a look at your own profile right now. Go ahead and pull it up. Don't worry, I'll wait…
Got it? Great! Let's do a quick review of the 5 crucial parts that, if optimized, will help bring you leads.
1. The Headline. Read your headline. Does it tell WHAT you do, or does it state your title? I know, I know, you worked hard for that title, but a title like "President at" or "CEO at" isn't going to help you get leads. And that is one of the main reasons you are on LinkedIn, right?
Your headline needs to convey what you do to help solve your client's problems -- using words potential clients would use to search for you. Spend a few minutes thinking about those keywords, and replace your current headline with them, like our President, Clarke Bishop:


2. Your Profile Picture. Look at the picture you uploaded to LinkedIn. Is it a picture of you and your significant other? Or you and your pet? Or, worst of all, a blank avatar? Augh!

Your picture should be professional. You should be facing forward or slightly toward the text on the page. You should be smiling and your attire should reflect what you would wear to an interview.
You should look like someone people want to know. This may be the only impression you get to leave with someone -- so make it a good one!
3. LinkedIn Public Profile URL. Your public profile URL should be customized to say your name or what you do. The last thing you want to do is leave it as your name with a bunch of numbers after. Nothing says amateur LinkedIn user like a profile URL that is not customized.
This is such an easy fix. Move your cursor over "Profile" at the top of your homepage and select "Edit Profile". Under your profile picture is the link to your public profile URL.
Click the edit icon (pencil) next to your URL. On the next page at the top right, click on the edit icon again and type the last part of your new custom URL, like so: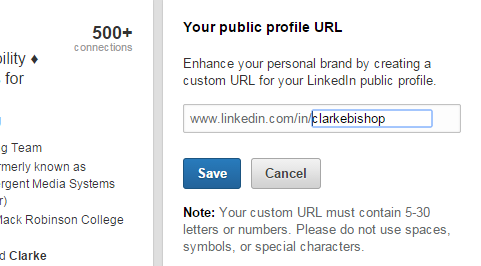 4. Summary. Your summary should not read like a resume, listing all your accomplishments, the awards you've won, and what you do at your job. You can spend one or two paragraphs telling your story and what makes you credible, but do it in a way that speaks directly to your target audience and make it relevant to their needs.
It should explain who your ideal clients are and what solutions you offer to solve their problems. You should know what pain points your ideal client has and what your company does to remedy them.
End your summary with a call to action -- what you want them to do next. This is how you close the deal.
5. Shared Content. LinkedIn is a business community and sharing costs you absolutely nothing, but be sure to share information your client will find useful. The better the content you share, the more trust you build.
Share things your audience cares about, as doing this will help you build credibility and trust. The more content you share, the more you'll show up on other feeds. People will feel like they know you and you can be trusted as an expert.
Sharing content gives people the opportunity to interact with you. They will look at your profile, and if you have put in the effort to improve your profile, you can't help but get leads.
If you are interested in having us review your LinkedIn profile, get your Free LinkedIn Profile Review by clicking below.
Tell me what you think. Is there a part of the LinkedIn Profile I missed that you feel is very important for getting leads?
Content Marketing & LinkedIn Strategist at Inbound Team
Inbound Team is Georgia's Digital Marketing Agency specializing in helping businesses grow through inbound and digital marketing.
Inbound Marketing Services
are available for companies that want more leads and want to accelerate their growth.