I am pleased to announce the release of HubSync 3!
We are in the process of updating all our current clients. New customers will be setup on the new version from the start.
HubSpot 3 was a major upgrade for HubSpot. Contacts, List, and Workflows all got major improvements.
And, HubSpot completely re-worked their software APIs. The changes caused us to re-think how a shopping cart integration should work, and we hope you really like the new version.
As before, HubSync continues to help you optimize marketing ROI for your eCommerce company:
Know which sources are converting to sales.
Recover sales from abandoned carts
Closed-loop eCommerce
At a high level, it still works like it did before. We monitor your shopping cart to detect when visitors are adding items to their shopping carts and when they complete a purchase.
Every few minutes, we analyze the data to see if there is a new events:
Completed Purchase - The visitor has put items into their cart, and checked out to complete their purchase

Abandonded Cart - The visitor added items to their cart, but then did nothing for at least 60 minutes, and never completed their purchase. We know if they are still putting thing into or taking things out of their shopping cart.

What's New in HubSync 3
The main changes you'll see are in Contacts. We've added a new Property Group called HubSync Information. All of these work just like any other HubSpot contact field.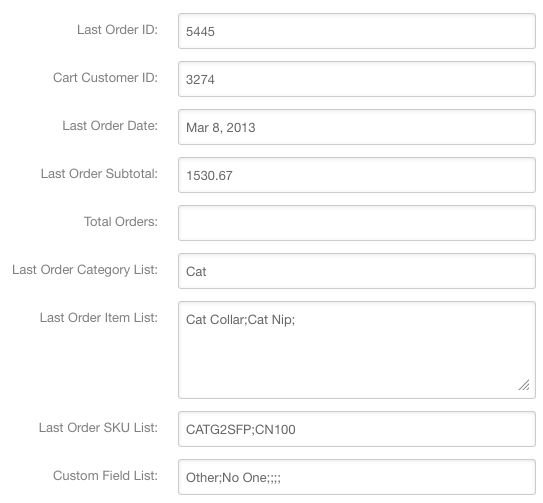 For the most part, these fields contain the information from the Last, most recent, order.
The fields are:
Last Order ID - The shopping cart order ID for the last order. Use this if you ever want to lookup the order in the cart or cross-reference orders.


Cart Customer ID - The customer ID in the shopping cart. Again, it lets you cross-reference contacts.


Last Order Date - Date of the last order.


Last Order Subtotal - For the last order, the sub-total before taxes or shipping.


Total Orders - A field you can use to track the total number of orders for this contact. This requires setting up a workflow. I'll tell you how in another blog post.


Last Order Category List - (Depends on your specific shopping cart.) Where available, we put the product category list from the last order. Categories are separated by semicolons (;).

Last Order Items List - A list of the items from the last order separated by semicolons (;).


Last Order SKU List - A list of the SKUs for each item in the last order separated by semicolons (;).

Custom Field List - (Depends on your specific shopping cart.) Where available, we put a list of custom fields from the last order separated by semicolons (;).
Besides this information, we also update other standard contact fields like name, address, city, state, company, etc. All of this is much cleaner for HubSpot 3 than with the old version of our software.
Those of you who are more advanced in HubSpot 3 may already see ways to use this new information. I'm also going to show you some tricks in future blog articles.
New Forms
We also added new HubSpot 3 forms to support the new capabilities in HubSync3.
The old version of HubSync used forms with names like "Completed Purchase." To keep things clearn, all the new conversion look like this: Completed Purchase (HubSync 3).
Some of you may have the new Forms interface. Whether you do or not, it's very important that you not edit these forms or use them for anything other than HubSync.
I hope you like the changes. Leave a comment to let me know what you think!
More Leads ♦ More Sales ♦ More Visibility ♦ More Fun ♦ Marketing & Sales Results
Inbound Team is Georgia's Digital Marketing Agency specializing in helping businesses grow through inbound and digital marketing.
Inbound Marketing Services
are available for companies that want more leads and want to accelerate their growth.