True, iPhone 5 is expected to have a larger screen, work over higher-speed wireless networks, and have other goodies. But, will it help you grow your business so you can afford all those new iPhones for your employees?
At Inbound Team, we are a HubSpot partner, and yes, we love HubSpot. Still, it's rare to see a new software release that offers as much as HubSpot 3.

Have you ever called a customer "service" number where they ask you to punch in your account number. Then, when you finally get a representative, what do they ask? "Could I have your account number please?" I cringe every time this happens, and it happens almost every time.
Unfortunately, too much online marketing works the same way. Come to our website and download our white paper. Just give us your name, email, company, phone, etc. The only problem is that we may have recently collected all the same information from the same person — Very annoying!

What if you had a website that knew all about your customers and visitors?

What if it only asked for data it didn't already have?

Even better, what if it gave them appropriate content based on who they are and where they are in the buying cycle?
Finallly, HubSpot 3 solves the problem.
At Inbound Team, we do a lot of integrations between HubSpot and other systems. We know how hard it can be to make everything work well together.
In HubSpot 3, everything revolves around contacts. The Contacts section has been completely redesigned so that you can associate much more data with a specific contact. This really lets you know who the person is and what interests them.
Then, you can build dynamic, "smart lists" to focus on a specific group of your customers or prospects. What if a big social media influencer visited your site? Wouldn't you want to treat them with extra care?
In the example list shown below, we've found our Influencers by checking their follower count and recent history. Yes, HubSpot actually looks this up for you.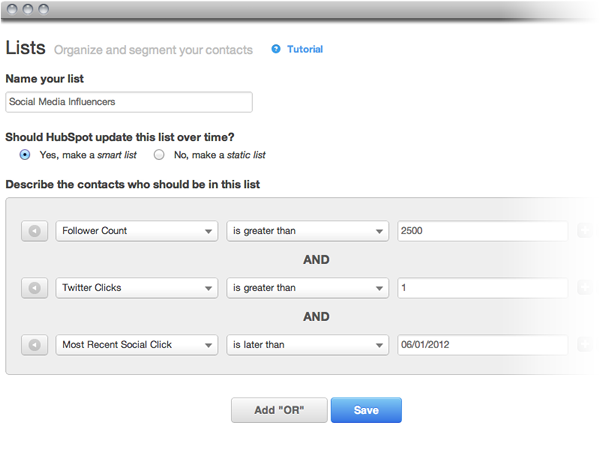 Lists can be used for email marketing, but the same idea is used to create Smart Forms that only collect the data you don't already have.
You can even change Calls to Action (CTA) and other elements of your website based on the Contact's information. You can show a top of the funnel CTA for new visitors and offer a totally different offer to visitors that are ready to buy.
There's only one downside to all this marketing power — It takes some expertise to use it effectively. HubSpot has made things very usable. Still,you have to know your customers, know their buying process, create relevant content and design all these interactions. That's where we can help. Get a free HubSpot 3 marketing review.
I may never know why phone systems keep asking for account numbers and can't integrate with customer service software. At least my marketing life just got a lot easier. My customers will love it!
Please leave a comment and let me know how you are going to use HubSpot 3 to delight your customers.
More Leads ♦ More Sales ♦ More Visibility ♦ More Fun ♦ Marketing & Sales Results
Inbound Team is Georgia's Digital Marketing Agency specializing in helping businesses grow through inbound and digital marketing.
Inbound Marketing Services
are available for companies that want more leads and want to accelerate their growth.