It's 2012, and most companies realize that Inbound Marketing works much better than old-fashioned interruption marketing.There's only one problem -- The number of worthwhile marketing intiatives is overwhelming!
I know, just Google for "best marketing initiatives." Now you're overwhelmed again. And, some of the recommendations you'll find are just plain wrong.
Here's what doesn't work: Trying to trick Google and the other search engines. Google has billions of dollars and over 30K employees including some of the smartest people on the planet. What definitely does work is creating remarkable content that help your prospects -- As long as you do it consistently.
Inbound Marketing Priorities
Here's what I do to set priorities. Have you seen HubSpot's new Marketing Grader? It's free -- Even for non-HubSpot customers. It's the upgrade for their old Website Grader.
The best thing, is that the good folks at HubSpot have already done the hard work of seeing what's important for your Inbound Marketing in 2012. Just don't be disappointed if your score is lower than it was in the old Website Grader. HubSpot is being tough on us to help us have the best possible inbound marketing!
Here's the marketing grader for Inbound Team: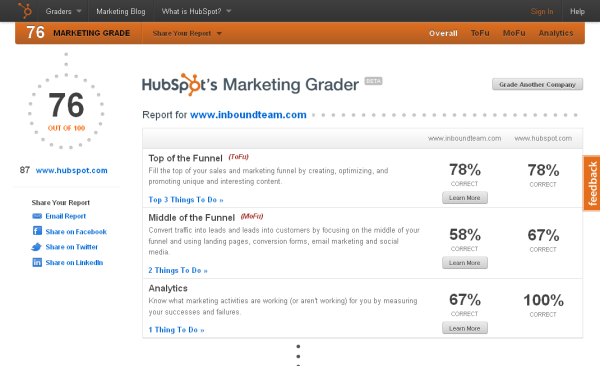 OK, a 76. Maybe, I should have hidden our results. Oh, wait. This is all built from public information. You can run a marketing grader on anyone you want, including Inbound Team! You can even run this report on your competitors (And they can run a report on you!).
I benchmarked us against HubSpot, and they only got an 87! HubSpot created the tool, and even they can't ace it. It's a pretty tough scale after all, so maybe a 76 isn't that bad.
The best part is that HubSpot provides detailed coaching on how to improve your score. In fact, we orginally scored a 74. We were missing some mobile optimization. In another post, I'll show you how, in just a few minutes, we added Apple icons and Meta Viewport tags. As a result, Marketing Grader gave us two more points.
Besides the coaching, Marketing Grader groups the results by Top of the Funnel, Middle of the Funnel, and Analytics. They'll even show how you compare to your competitors in each area. Sure, all of your Inbound Marketing works together. But, it really helps to be able to focus on one key area at a time.
The 2012 Inbound Marketing Challenge
Run, your own Marketing Grader. If you can beat our 76, leave a comment and brag about it! Of course, we're not going to accept our current score, and it will be improving. So you'll have to stay on your toes.
If you can't beat us, then call 800.609.9669 and get some help with your Inbound Marketing.
More Leads ♦ More Sales ♦ More Visibility ♦ More Fun ♦ Marketing & Sales Results
Inbound Team is Georgia's Digital Marketing Agency specializing in helping businesses grow through inbound and digital marketing.
Inbound Marketing Services
are available for companies that want more leads and want to accelerate their growth.