Twitter for Business (GF501)
Twitter is becoming an increasingly important platform for online business communication. It's a microblogging service that enables users to send out and read tweets of up to 140 characters. Twitter has unfolded as a valuable and easy-to-use social media tool that enables businesses to share up-to-the-minute information about their products or services. Businesses that are active members of their business community rely on Twitter to share ideas and keep tuned in to what their competition is doing.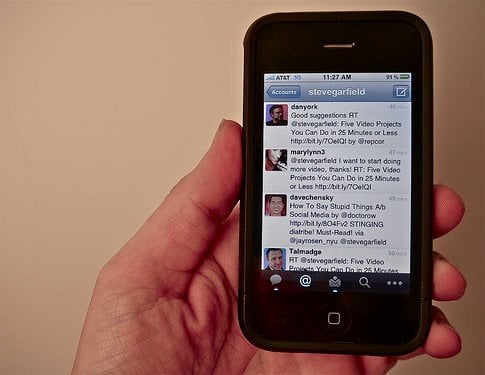 Image by: stevegarfield
Building relationships
Twitter is useful for building a more personalized brand for your business by developing deeper relationships with your customers. If your business has the reputation of being sociable and approachable, people will want to do business with you! When consumers have questions about a product, they want to be able to reach the manufacturer quickly and easily. Nowadays, so many businesses restrict their communication channels by throwing up barriers between them and their customers. Remove the barriers and give your buyers access. Twitter provides them access via real time interaction with your business. If you can establish deeper relationships with your customers, they will feel more loyal about doing business with your brand.
Receive consumer input
Listen to your customers…closely. Twitter is a perfect way to discover what people are saying about your business. Before considering a new product launch, get feedback from your Twitter followers on whether or not they think it's a good move. No one understands the value of your products better than the people who use them. Consumer input is the key to developing better products. People buy your products to solve their unique problems. If your products are not delivering the intended results, you want to know about it. Twitter provides an open channel for you to learn ways to better enhance your offerings and make them more marketable.
Promote your business
The nice thing about Twitter is that it's ideal for people on the move who use mobile devices like iPhones or Blackberries. You can easily deliver your message straight into your customer's pocket without having to depend on email or expensive printed media. Twitter is the perfect medium for sharing the latest news, promotions, or events related to your business. It's often easier to announce an upcoming webinar in a short tweet than in an email because many people are more apt to acknowledge tweets than emails. As long as you adhere to the 140-character limit, Tweets allow you to include links to your web pages, blogs, or videos.
Broaden your horizons
Develop greater expertise in what you do by following industry experts on Twitter. Staying connected with the leaders in your industry provides you with a steady stream of fresh ideas, resources, and tips focused on how to build a better business. Engage with those you follow by joining conversations. Contribute answers and make suggestions so you can build a reputation within your business community. Retweet particularly valuable content with your Twitter followers. The more informative content you forward them, the more reliable they will view you. As your reputation grows, so will your list of followers.
Chris Brogan's 50 Ideas on Using Twitter for Business post offers some practical steps on how to get your Twitter business network set up. Do you have some additional Twitter tips for business? We'd love to hear your comments!
Inbound Team is Georgia's Digital Marketing Agency specializing in helping businesses grow through inbound and digital marketing.
Inbound Marketing Services
are available for companies that want more leads and want to accelerate their growth.