On LinkedIn, Simran Gupta asked about strategies to increase conversion rates on a website. Unfortunately, when you ask the question this way, people start thinking about eBooks, opt-in forms, email marketing, and all the other tactics that live in the world of online marketing.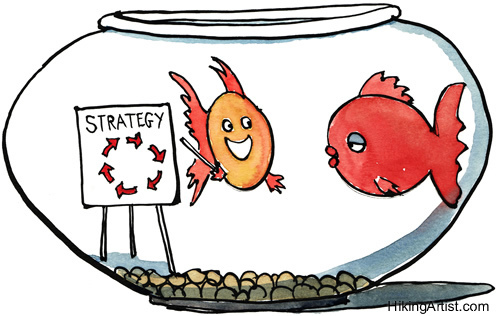 Image By: HikingArtist.com
Serve Your Prospects to Increase Conversion
What I see all the time, is that effective online lead generation isn't about the tactics - Chat panels, inquiry forms, or any of the web widgets you might put on your site.
Instead, focus on your prospects. What are they really looking for? How do they define their problem? Show that you care and are available to help and the opt-ins will flow in.
Steps to Increase Conversion Rates
Develop a persona that personalizes and describes your ideal prospect. Give your persona a name and a personality.
Research keywords to have a great idea what keywords your target persona would use when searching for a solution.
Create valuable web content that educates your target persona, and helps them solve their problems. Blogging is an excellent way to create content and get found on the Internet.
Create relevant offers for your visitors - Report downloads, eBooks, etc. The important thing is not the tactic of having a PDF download. What is important is having valuable and relevant information to download.
Add relevant Call To Action opt-in buttons to your content so your visitors can provide their email address and learn more.
Continue to follow-up to add value and educate.
Takeaways
Add value and help your prospects and the opt-ins will follow.
Focus on knowing your prospects and helping them solve their problems.
Don't worry about the specific technologies
Do you agree or disagree? Leave a comment and let me know.
More Leads ♦ More Sales ♦ More Visibility ♦ More Fun ♦ Marketing & Sales Results
Inbound Team is Georgia's Digital Marketing Agency specializing in helping businesses grow through inbound and digital marketing.
Inbound Marketing Services
are available for companies that want more leads and want to accelerate their growth.